NATURAL AND HEALING SKIN CLEANSER FROM LONJEVITE
Lonjevite, which has become one of the cult brands with its skin serums, has come to change its skin care ritual with its new water-activated luxury skin cleanser "Daily Detox Powder Cleanse".
For all skin types, Lonjevite Daily Detox Powder Cleanse is activated with water, which effectively removes oil, make-up and other impurities and gently exfoliates to reveal softer, smoother and more radiant skin.
Completely herbal origin
Cleaning powders are concentrated versions of liquid cleaners that create a foam when activated with water. The difference of Longjevite's new cleanser, which attracts great attention in the world, is that it gently exfoliates and provides sebum stability thanks to the rice extract, pink and white clays it contains.
The product, which is suitable for all skin types, supports a bright skin appearance with the papaya fruit enzyme, aloe vera and oat extract it contains. With a gentle lather derived from coconut, it helps refine pores, paying homage to the skin's moisture stability.
In addition to leaving your skin silky smooth, you can feel amazing knowing that this exclusive water-activated cleanser is 100 percent vegan and formulated without parabens, silicones, and synthetic materials.
Lonjevite Daily Detox Powder Cleanse smoothes the appearance of texture and pores in regular use. It is detox effective and the opposite of pollution. It removes dead skin, has a pore-purifying effect, renews the skin, and reduces the appearance of fine lines and wrinkles.
Pink and white clay: Pink clay has a detox effect and protects the skin against air pollution.
Rice Extract:Rice extract protects the skin against wrinkle formation.
Papaya:It removes the dead skin on the skin and provides a brighter skin appearance.
Aloe vera: Aloe vera is a great moisturizer that contains anti-inflammatory and antibacterial properties. It also promotes wound healing and skin regeneration.
Oat Extract:With its anti-inflammatory and moisturizing properties, it traps moisture in the skin and provides protection on the skin.
Coconut:Derived from coconut, this gentle cleanser produces a heavy, creamy lather that does not damage the skin barrier.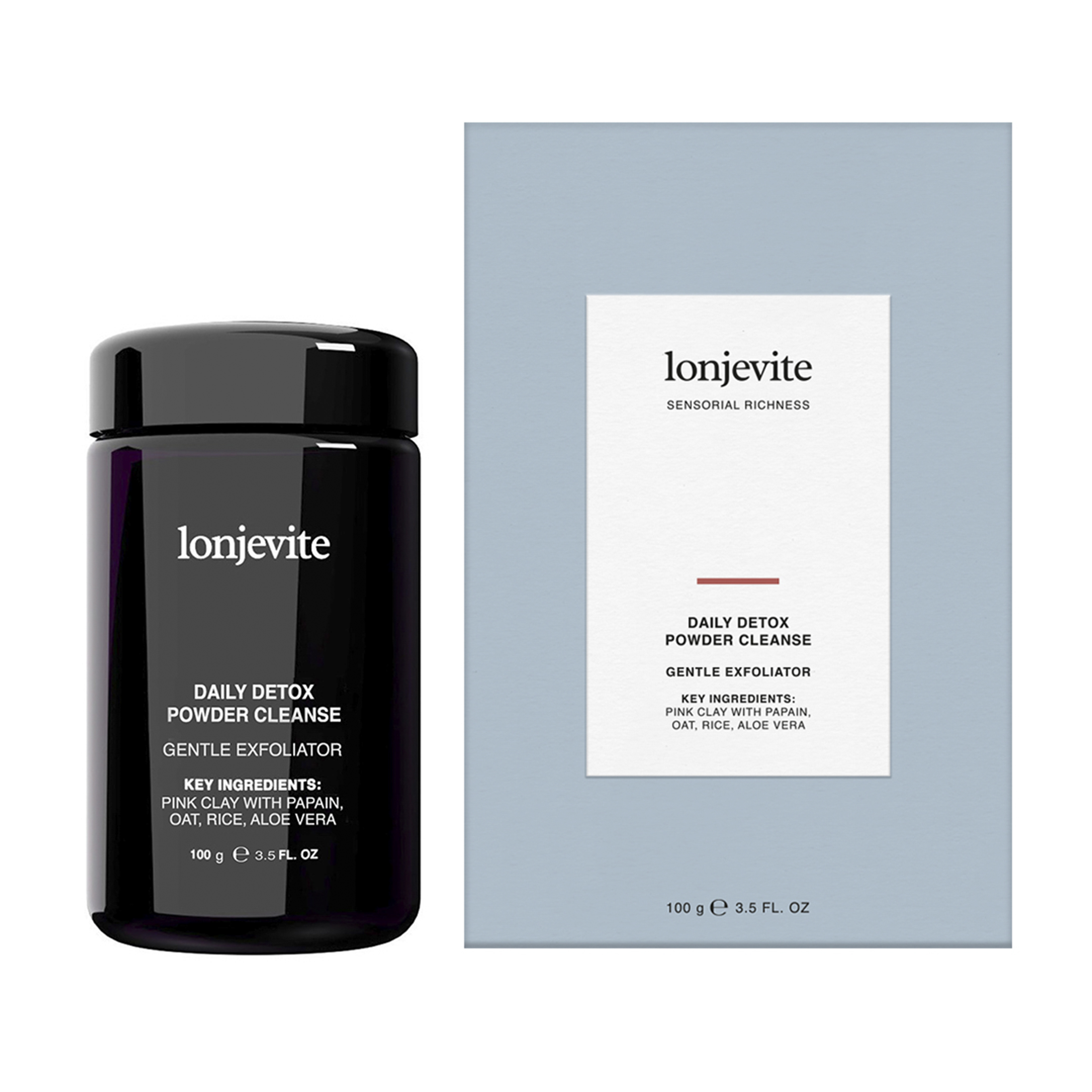 How to use?
Take a spoonful of Daily Detox Powder Cleanser in the palm of your hand and activate it with water and rub until it turns from powder to foam. Apply in circular motions to your face and neck, avoiding the eye area. Rinse using warm water and a muslin cloth. To use as a mask, leave it on for 10-15 minutes before washing it off.
Combination / Oily / Acne Skin: Use many days.
Normal / Dry / Mature Skin: Use 3 times a week.
Lonjevite Daily Detox Powder Cleanse Price: 450 TL