Safflower Oil for Skin: Benefits, Uses and Side Effects
Oils are well-known emollients that are useful for skin care. Have you ever heard of safflower oil? Safflower oil, similar to sunflower oil, is very effective in protecting the skin and beautifying the health of the skin. At the same time, it moisturizes the skin and fights fungal and bacterial infections. In this article, we explain the benefits of safflower oil and how to use it correctly.
What is Safflower Oil / How Is Safflower Oil Made?​
Safflower oil is obtained from the seeds of the safflower plant Carthamus tinctorius. The plant is native to Egypt, East Asia, and the West coast of North America. Safflower oil is obtained by cold pressing or classical solvent extraction methods. It is a well-known cooking oil for its mild flavor. But its popularity in the skincare industry is growing. Safflower oil has a rich linoleic acid content that is good for the skin. Apart from this, it has many benefits for the skin.
Benefits of Safflower Oil for Skin
Treats Skin Disorders: Safflower oil is used to treat skin infections. It may also help reduce the risk of skin cancer. The oil can also help accelerate wound healing.
Has Antimicrobial Properties: The oil has beautiful antioxidant, antibacterial, antifungal and antimicrobial properties. It fights yeast, fungus and bacteria that prevent wound healing.
Provides Nourishing Benefits: Safflower oil is often used as an emollient in cosmetic products. It is rich in oleic, linoleic and omega-6 fatty acids. Its high linoleic acid content smoothes the skin's appearance. At the same time, it also prevents the skin from drying and flaking. Contains linoleic acid, vitamins A, D, E and K. Vitamin E helps to improve skin health. Safflower oil helps correct essential fatty acid deficiencies and soothes irritated and worn skin.
Helps Block Melanin: Safflower seeds contain serotonin derivatives and acetin, which inhibit the formation of melanin and help even out the skin tone. This suggests it may help lighten dark circles, dark spots and other skin discolorations.
Increases Skin Hydration: Safflower oil moisturizes and protects the skin. It increases the hydration of the skin and prevents water loss. The oil is also believed to regulate skin barrier function.
Soothes Skin: The oil has anti-inflammatory properties that can protect the skin. It can also be used in the treatment of acne and pimples.
Types of Safflower Oil
Regular Safflower oil: This oil has a thick consistency and is odorless. It is obtained from safflower seeds and can be used for cooking, cosmetic and medicinal purposes. Application to the skin is believable. Ordinary safflower oil can be divided into two varieties, distinguished by the content of unsaturated fatty acids.
Linoleic Safflower oil: This oil is rich in polyunsaturated fatty acids. It contains 68-79% linoleic acid. It is also frequently used in skin care cosmetics due to its high linoleic acid content.
Oleic Safflower oil: This oil is rich in monounsaturated fatty acids. Because of its lower saturated fat content, it is used as a edible oil in the food industry.
Safflower Essential Oil: This oil is obtained from the leaves of safflower and distilled by pressing. It can be paired with other essential and carrier oils for enhanced skincare benefits. It cannot be swallowed, only applied topically.
How to Use Safflower Oil for Skin?
1. Safflower Oil Mask Recipe for Acne
Safflower oil has anti-inflammatory properties and is often used in the treatment of acne vulgaris and pimples. The oil also increases wound healing and helps to beautify acne lesions or scars.
Materials;
1-2 tablespoons of honey
1 to 2 tablespoons of oatmeal
1-2 tablespoons of safflower oil
How to make a safflower oil mask?
Mix honey, oatmeal and safflower oil. Stir the mixture sufficiently. Apply the mixture on your face and leave it for about 15 minutes. To get rid of the mask, wet your face a little and start rubbing it gently. Cleanse your face with cold water and pat dry. Apply a moisturizer.
2. Safflower Oil Recipe for Eczema

Eczema is an itchy skin inflammation condition. It renders the skin barrier dysfunctional. In the middle of the smoothest treatment options are emollients and topical anti-inflammatory artifacts. Safflower oil is known to improve the protective skin barrier function. It also has anti-inflammatory properties and prevents the skin from drying and flaking.
Materials;
How is it done?
Apply some safflower oil to the affected area once or twice a day and allow it to be completely absorbed. You can also apply it before going to bed.
3. Safflower Oil for Wrinkles
Safflower oil is known for beautifying skin texture and supporting skin cell regeneration thanks to the linoleic acid it contains. Using it daily will improve your skin health and tone. The oil's antioxidant properties help fight signs of aging, including wrinkles.
Materials;
Fabrication:
Apply safflower oil to your face every night before going to bed. Wash it the next morning. You can also mix it with other essential oils such as lavender or tea tree. You can even use safflower oil as an alternative to moisturizer.
4. Safflower Oil for Dark Circles and Skin Lightening
Daily sun exposure, environmental damage and other external factors affect skin health. This damage occurs as early signs of aging, dark circles, dark spots, discoloration. Safflower oil can be used for melanin inhibition. It can help lighten dark circles, dark spots and other discolorations.
Materials;
Safflower oil
How is it done?
Before going to sleep, apply a few drops of safflower oil around the eyes with your fingertips. The oil works as an outstanding under eye serum. Apply all over your face and follow your nighttime skincare routine to speed up the skin lightening process.
Side Effects of Safflower Oil
Safflower oil is used in many cosmetic products such as moisturizers and sun lotions. It is widely regarded as believable and non-toxic. It is often used to treat eroded and irritated skin. However, an animal study has shown that undiluted safflower oil can cause minimal skin irritation. Safflower oil can also be mildly comedogenic, which can irritate the skin. Therefore, you should do a small skin test to check for any adverse or allergic reaction to the skin.
Safflower oil is an example of sunflower oil, which is known for its benefits to the skin. So what separates safflower oil from sunflower oil?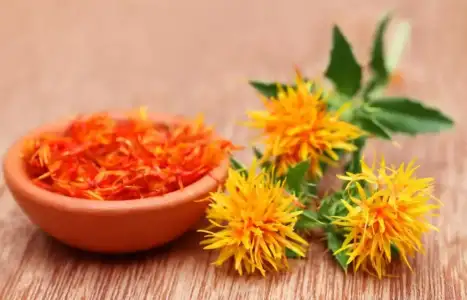 Sunflower Oil Vs. Safflower Oil For Skin​ ​
When it comes to skin care, sunflower oil is relatively similar to safflower oil. Both contain high levels of linoleic acid. In addition, they are perfect emollients that beautify the skin barrier function and improve skin health. However, safflower oil is not known and researched as much as sunflower oil. It has a lower saturated fat content than sunflower oil.
Conclusion: Safflower oil makes the perfect addition to your skincare routine. It protects the skin, improves its look and feel and reduces the signs of aging. However, as it can irritate the skin avoid undiluted safflower oil . It may be helpful to do a small skin test before applying the oil.